Meet The Pastor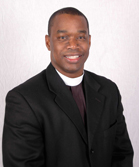 Dr. Antonio Bishop, Sr. is a native of Portsmouth, VA and a product of Portsmouth Public School system. After graduating from I.C. Norcom High School, he continued his education at Norfolk State University in 1993 with a Bachelor of Science in Exercise Science, in 1995 with a Masters of Arts in Special Education. Dr. Bishop later recognized the call of God on his life decided to pursue an education in divinity. Dr. Bishop graduated in 1999 from Virginia Union School of Theology with a Master of Divinity Degree.
In May 1999, Dr. Bishop along with his wife Angela founded the Anointed Word Ministries. This began as outreach ministries were people could receive counseling, teaching, and assistance with food, clothing, etc… Because of Dr. Bishop's sincere belief that this ministry could be expanded, Anointed Word Ministries was organized and established into a church in 2001. In May 2001, Anointed Word Ministries held his first worship service.
Dr. Antonio Bishop Sr. continued to further his education to incorporate his education and experience into the vision he had for the people who come into contact with the ministry to become empowered, encouraged, and equipped to live a holistic life. In 2001, he matriculated a Master of Arts Degree in Urban Education and Counseling. This led to the completion of licensure in Substance Abuse Counseling in the state of Virginia. As the ministry began to grow, Dr. Bishop recognized the need to be educated in the operations of ministry. In 2004, he completed his Doctor of Ministry Degree from Christian Life School of Theology.
In August 2011, Dr. Bishop was elected the Senior Pastor of Miracle of Faith Baptist Church, Independent in Portsmouth, Va. He was officially installed as the pastor on November 6, 2011.
He currently serves both congregations as Senior Pastor. He is an international preacher and teacher.
Dr. Bishop is currently affiliated with the Mt. Calvary Holy Church of America under the leadership of Bishop Alfred Owens & Co-Pastor Susie Owens, The Next Generation Pastor's Institute with Dr. Carolyn Showell, Kingdom Destiny Fellowship, International under the leadership of Bishop Derrick Robinson, and The Shepherds Connection with Dr. R. A. Vernon.
Dr. Bishop is married to Angela M. Bishop to whom he has been married to since September 1993. He and his wife are the proud parents of LaShawnda, Antonio Jr., Destiny, and James and grandfather of Shaniya Bishop. He also has two spiritual sons Shannan & Josh.